Waste Film Granulation Production Line Description:
The granulation method of waste film granulation production line adopts water ring granulation, and the granules are in the shape of round tablets. Compared with the traditional stretch granulation method, the granules cut out by water ring granulation are uniform in size without changing the screen. The problem, the equipment occupies less space and other advantages.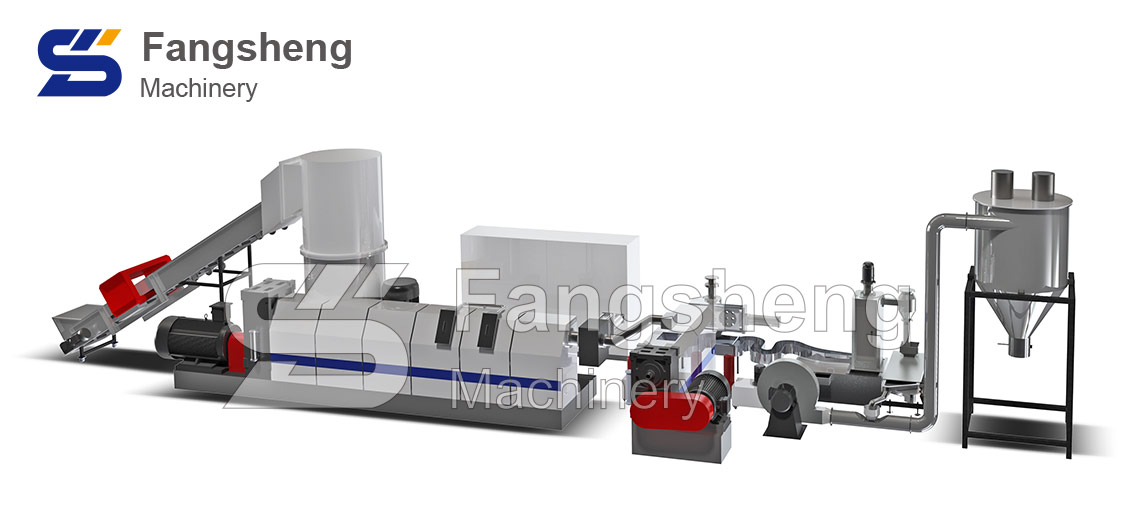 The waste film granulator is equipped with a cutter head and a fixed knife on the inner wall to cut the broken film, and generates heat under high-speed cutting friction to cause the material to shrink by heat, increase the bulk density and increase the feed rate. The material after heat shrinkage is loaded through the inner wall. The set deflector is thrown into the screw of the main engine.
Waste Film Granulation Line Process Flow:
1. Dense storage→2. Single screw main engine→3. Screen changer→4. Water ring pelletizing→5. Dehydration. According to your requirements, you can choose single-stage film granulator or two-stage film granulator.
Waste Film Granulation Line Application:

Waste Film Granulation Line Video:
Learn more about YouTube's waste film granulation line
Waste Film Granulation Line Technical Parameter:
FS series single-stage granulator machine
Model
Extruder
Screw diameter(mm)
L/D ratio
Power(kw)
Productivity(PE)(kg/h)
Productivity(PP)(kg/h)
FSJ70
70/33
φ70
33:1
110
110-150
100-130
FSJ85
85/33
φ85
33:1
150
180-250
150-200
FSJ100
100/33
φ100
33:1
210
280-350
250-300
FSJ130
130/33
φ130
33:1
300
480-550
400-480
FSJ160
160/33
φ160
33:1
370
650-750
550-650
FSJ180
180/33
φ180
33:1
460
800-1000
750-850
FS series double-stage granulator machine
Model
FSJ100/120
FSJ130/130
FSJ160/160
FSJ180/200
First extruder parameter
Screw diameter(mm)
φ100
φ130
φ160
φ180
L/D ratio
33
33
30
30
Extruder motor(kw)
90
132
185
250
Heating power(kw)
45
55
70
70
Screw speed(RPM)
0-120
0-120
0-120
0-120
Second extruder parameter
Screw diameter(mm)
φ120
φ130
φ160
φ200
L/D ratio
10-15
10-15
10-15
10-15
Extruder motor(kw)
30
45
55
75
Heating power(kw)
30
35
45
60
Screw speed(RPM)
0-120
0-120
0-120
0-120
Productivity(kg/h)
250-350
400-550
500-700
800-1000
Waste Film Granulation Line Detail: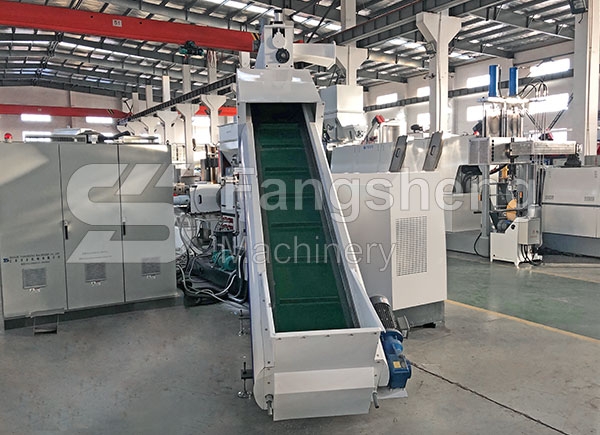 Detail 1
Detail 2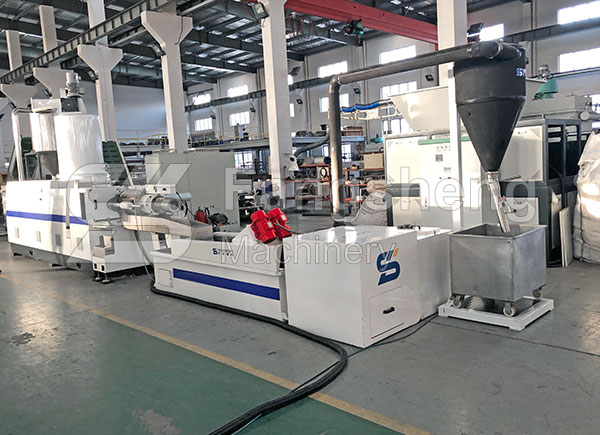 Detail 3