The waste plastic wrap recycling washing line is mainly used to recycle waste PE PP film/woven bags (shopping bags, agricultural films, garbage bags, plastic wrap, woven bags, etc.).
The waste plastic recycling washing line produced by Fangsheng Machinery mainly belt conveyer, wet crusher, screw conveyer, floating washer, screw conveyer, high speed friction washer, screw conveyer, dewatering machine, drying system1, silo for transition, drying system2, storage hopper etc. Through a complete set of plastic washing line equipment, it can effectively clean the sand, oil and other impurities attached to the surface of various films/woven bags, and finally get clean film fragments.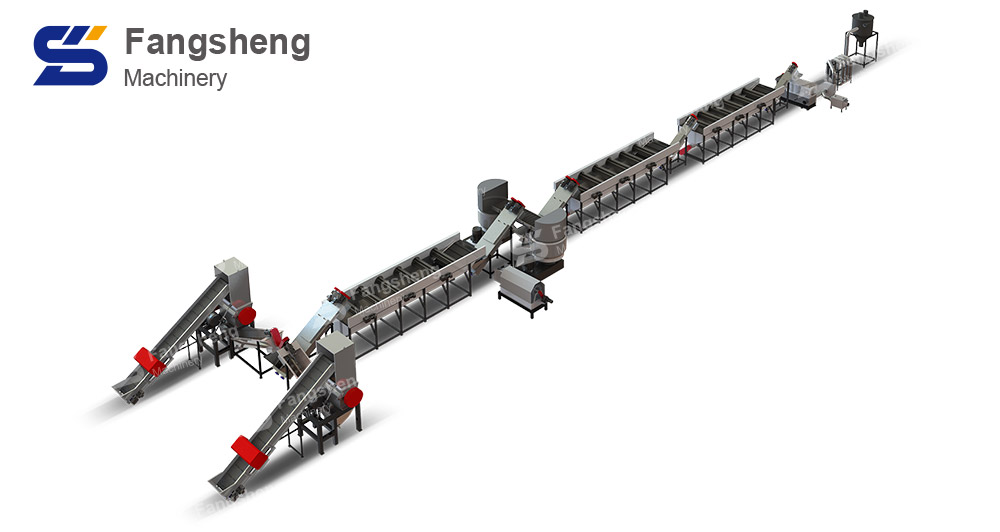 Waste Plastic Wrap Recycling Washing Line Features:
1. The plastic recycling washing line has no pollution, no noise during the production process, and will not cause secondary pollution to the environment.
2. The plastic recycling washing system is fully automated, with low energy consumption, adjustable output and stable performance.
3. The plastic recycling production line can be selected according to customer needs, and the output range: 500KG/H-2000KG/H.
Waste Plastic Wrap Washing Line Video
Waste Plastic Wrap Washing Line Flow Chart:
Belt conveyer → Wet crusher → Screw conveyer → Floating washer → Screw conveyer → High speed friction washer → Screw conveyer → Dewatering machine → Drying system1 → Silo for transition → Drying system2 → Storage hopper
Waste Plastic Wrap Washing Line Application:

Waste Plastic Wrap Washing Line Technical Parameter:
Name
Motor power (kw)
Dimension (mm)
Water consumption (T/H)
Stainless steel standard (mm)
Electric standard
Belt conveyor
2.2
4500*690
–
–
According to customers standard
Wet crusher
75
–
2-4
–
Friction washer
2.2*2
3000*300
1-2
3-5
Floating washer
2.2*2+1.5
4500*1300
2-4
3-5
Screw conveyor
2.2
2500*250
1-2
3-5
High-speed friction washer
30
–
2-4
3-5
Screw converor
2.2
2800*300
1-2
3-5
Dewatering machine
75
–
–
5
Drying system
36
–
–
–
Storage hopper for transition
–
–
–
–
Drying system
36
–
–
–
Storage hopper
2.2*2
–
–
–
Waste Plastic Wrap Washing Line Detail:
High-speed Friction Washer
Crusher Machine
Dewatering Machine