Water Ring Film Pelletizing Line Description:
Water ring film pelletizing line consists of a die, water circulation room, pelletizer, flushing channel, centrifugal hydroextractor and a circulating water-cooling system. Plastic films are melted and discharged through the extruder, then discharged through the die. During discharge, plastic films are cut by high-speed rotating blades and the plastic pellets are shaken off; after which the pellets are cooled and carried off by circulating water film to the water circulation room.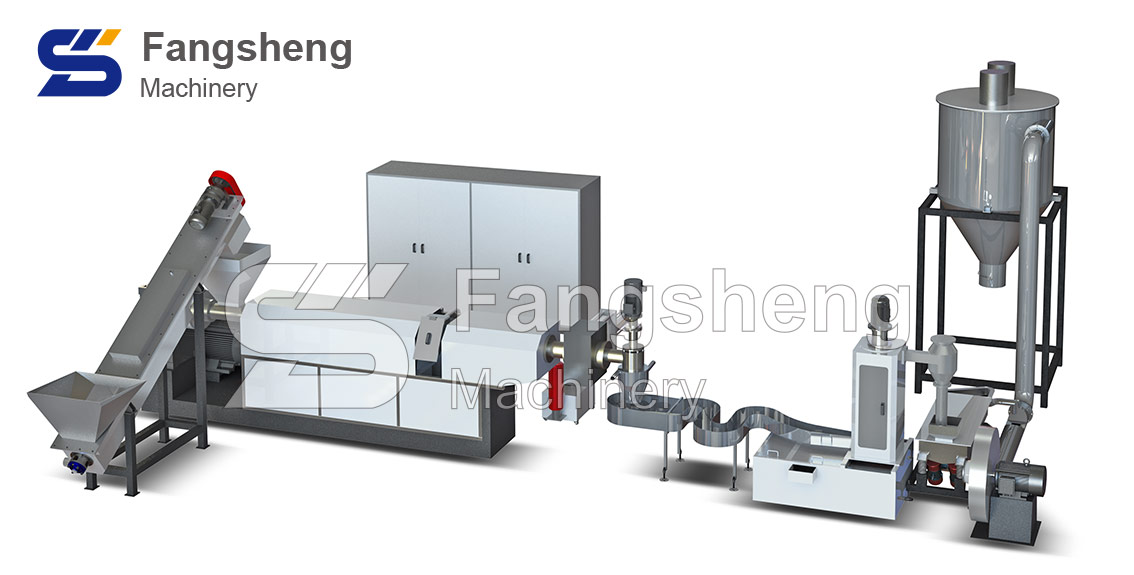 Water ring pelletizing line is currently mainly used for PE, LDPE, HDPE, PP etc. The features of this water ring pelletizing line include: the die surface does not make direct contact with water, low costs from die and blade wear, as well as producing pellets of consistent sizes and shapes after passing through the water circulation (die surface) pelletizer.
Water Ring Pelletizing Line Application:

Water Ring Pelletizing Line Video:
Learn more about YouTube's water ring pelletizing line
Water Ring Pelletizing Line Technical Parameter:
FS series single-stage granulator machine
Model
Extruder
Screw diameter(mm)
L/D ratio
Power(kw)
Productivity(PE)(kg/h)
Productivity(PP)(kg/h)
FSJ70
70/33
φ70
33:1
110
110-150
100-130
FSJ85
85/33
φ85
33:1
150
180-250
150-200
FSJ100
100/33
φ100
33:1
210
280-350
250-300
FSJ130
130/33
φ130
33:1
300
480-550
400-480
FSJ160
160/33
φ160
33:1
370
650-750
550-650
FSJ180
180/33
φ180
33:1
460
800-1000
750-850
FS series double-stage granulator machine
Model
FSJ100/120
FSJ130/130
FSJ160/160
FSJ180/200
First extruder parameter
Screw diameter(mm)
φ100
φ130
φ160
φ180
L/D ratio
33
33
30
30
Extruder motor(kw)
90
132
185
250
Heating power(kw)
45
55
70
70
Screw speed(RPM)
0-120
0-120
0-120
0-120
Second extruder parameter
Screw diameter(mm)
φ120
φ130
φ160
φ200
L/D ratio
10-15
10-15
10-15
10-15
Extruder motor(kw)
30
45
55
75
Heating power(kw)
30
35
45
60
Screw speed(RPM)
0-120
0-120
0-120
0-120
Productivity(kg/h)
250-350
400-550
500-700
800-1000